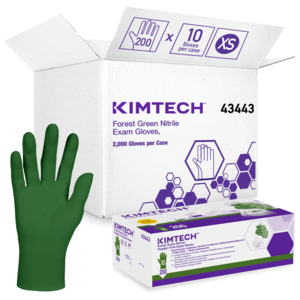 3.5 mil, ambidextrous gloves with textured fingertips for enhanced grip  
Excellent wet and dry grip to reduce potential for slips 
Beaded cuffs for added strength and donning ease 
Free of natural rubber latex – reducing the potential for glove-associated allergic reactions 
Superior quality – 1.5 AQL exceeds the ASTM 2.5 standard for critical defects (pinholes) 
Provides our best waste reduction opportunity in exam gloves 
Recyclable through RightCycle* program by Kimberly-Clark Professional* 

Try NEW Kimberly-Clark* Forest Green (dark) Nitrile Gloves. They are comfortable as well as sustainable. 
The gloves: 
• Reduce waste 
• Save space 
• Are recyclable 
After use, these gloves won't go to waste. You can recycle them through RightCycle* by Kimberly-Clark Professional*, the first large-scale recycling program for non-hazardous lab glove waste. RightCycle* will turn your used gloves into the raw materials to create eco-friendly consumer and durable products. It all adds up to an exceptional lab.
Package Dimensions   
Packaging Level 1 :   1 Case = 10 Box(s)
Packaging Level 2 :   1 Box = 200 Gloves
Packaging Level 3 :   1 Case = 2000 Gloves